Speech by Ulli Libor at Royal Dinner at Royal Yachtclub of Belgium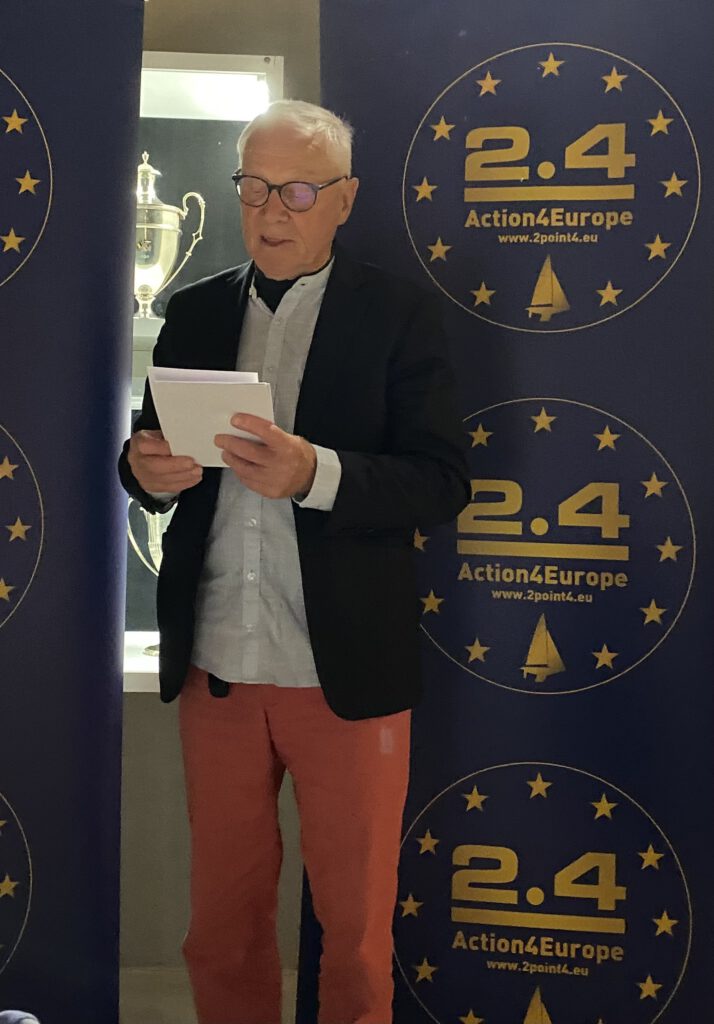 Good evening and thank you for the record of entries to this 6th European Circuit regatta in Antwerp!
The reason I am asked to be the speaker of this evening seems to me that I'am wearing an European hat! Competing as a member of the French National Class Association but with membership in different Yacht Clubs with the German Sailing Federation.
Allow me a short statement why the Action for Europe and the European Circuit has been started this year.
It was last year at Antwerp City Cup, a group of concerned international sailors was looking for a solution and a strategy to find a way out of stagnation of the 2.4 Class.
Unnecessary publications in matters like OD-One Design, missing marketing strategy and active promotion of Para has kept away sailors from other classes to join 2.4.
Some of us met at this place last year to look for new ideas to promote the class.
Friendship, fun, sportive competition for everyone and conflict free meeting in a new and special European regatta circuit. Action4Europe is the hope for a change.
Let's all invest in a new image and convince other sailors to join 2.4mR.
The 6 international regattas of the first European Circuit with 80 sailors out of 10 nations is now finalizing with a record of 32 entries here in Antwerp from 7 nations.
This success of the circuit could only happen, because of the enthusiastic 2.4 sailors to blow a fresh wind for sail and more.
Kick off regatta at Lac d'Orient – due to the energy of Christophe and Loic – with an extra amazing highlight: The European Dinner. Every nation presented national food specialities and national drinks. It was great fun and fantastic communication that evening!
Second traditional and international event at Lake Bostal experienced a new high quality of harmony and friendship. Thanks to Michael and Steffi! Special feature was the opening by welcoming every participant with a national typical song and short personal introduction. An excellent start to get to know each other.
Due to insistency of Henk the regatta at Zuidlaardermeer was a new startup for 2.4mR in the Netherlands. Thank you, Henk, we are participating next year to meet a growing class at your home waters.
Traditional welcome from Alexander in Tschech Republic with wonderful landscapes and super race organisation was worth a very long driving to Lake Macha.
Another long trip to lake Plau and a new record of international participation we experienced at the Nevellücht Regatta. Without the initiative and personal commitment of Lutz and Gaby this top event on one of our best inshore lakes would not have been possible. Thank you to both of you!
And now Jean-Paul, Mr. AntwerpCityCup, and his great team! Record entries, international participation on a very high level and friendship. Thank you, Jean-Paul for giving us a good and enjoyable time.
Thank you all together for your contribution in organizing top events and competing in the European Circuit events.
You all, invested gigantic distances and time-consuming travelling to take part in our "Action for Europe". Let me mention and present two people to be honoured for the enormous, extraordinary commitment to participate in four events.
Four long trips from Ireland to Germany, the Netherlands and Belgium must be cheered.
More than 10.000 km and 150 driving hours to take part in 4 events! What a performance!
Let's honour you, Patrick and Cormac! Please come forward!
For Patrick's birthday Loic has organised a special present. It´s a fender, signed by all participants of the AntwerpCityCup.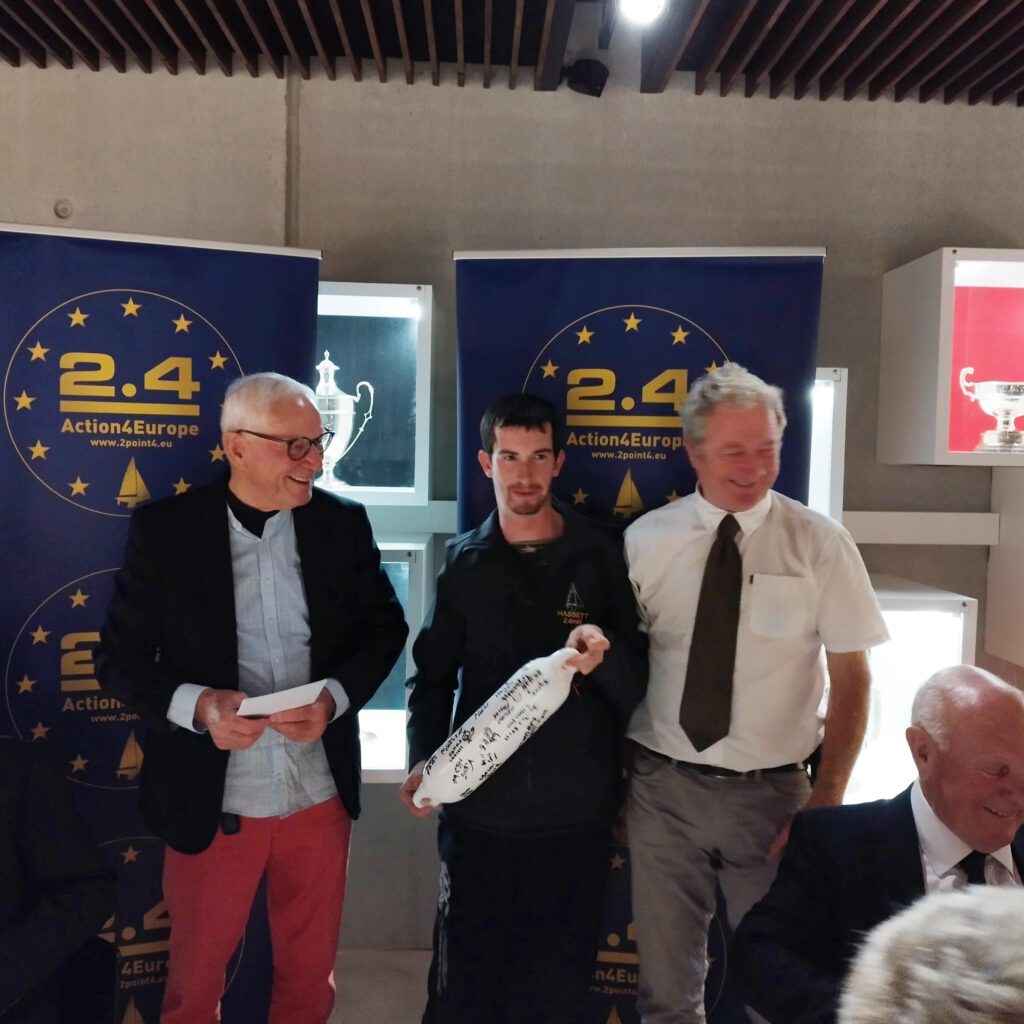 All these positive and successful highlights are published on our 2point4.eu website, which is an exceptional successful progress.
No other 2.4 website can show this dynamic and development in such a short time. Thank you Detlef for your activities and action: From December 1, 2022 to October 15, 2023: 8.300 visits were counted, this means 800 visits per month. 28.000 pages have been read, which means 2.600 pages per month.
90% participation in Europe, 50 % Germany, 12% Switzerland, 7 % Great Britain and 6% in France. Well spread over Europe and absolute promising for the future.
We have already many individual inputs to go ahead for 2024 regatta dates and venues, which will be shortly published on the 2poin4.eu website.
Now to answer the upcoming question: "Who is Action4Europe?" I can only answer the "Action4Europe" is not an organisation, we are individual enthusiastic 2.4mR sailors from all parts of Europe, who are willing to promote the growth of the 2.4mR class. Big thank you to you all!
Looking forward for "sail and more" and let's have good racing – in my 10th coming up year in this wonderful meter racing boat. Thanks, for all your friendship and fair racing for so many years.
See you at the kick-off regatta 2024 at Moisson-Lavacourt Lake, 50 km west of Paris, from March 8 to 10 once again with the highlight of a well-heated mulled wine!
Ulli Libor, GER 1011
Es tut uns leid, dass der Beitrag Dir nicht gefällt!
Lass uns diesen Beitrag verbessern!
Wie können wir diesen Beitrag verbessern?
(298 Besuche)